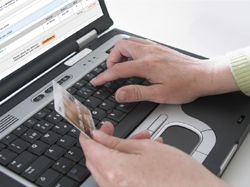 To make the most of e-commerce on the Web, you must take advantage of the Web's unique features. The Web is unique in three key respects, (1) it is open around the world, (2) open around the clock, and (3) all input from your customers comes in digital, electronic form – ready to interact with your business systems. To use the Web to boost sales and cut costs, you have to:
Connect your site to your business systems. Give your Web customers direct access to the business database systems and data (catalogs, appointment lists, technical data, etc.) that deliver your organization's products or services.
Make your Web site smart. Use programming to make your site sell your products and service to your customers, better than a human representative could.
Solution
We provide specialized development services to make our clients' Web sites into a real business systems. We make Web sites that are database connected and business smart. Our services include logical database design, Web site design, system usability design, programming (ASP.NET, SQL Server), hosting, maintenance, and support.
Customers gain easy access to the company's business system, 24 hours per day seven days, per week, from anywhere in the world.
Our clients gain the efficiency of automated sales and electronic orders (which the system can feed directly into your other business systems); the savings of $0 cost for sales staff, customer service representatives, and telephones; and the increased volume from an "electronic sales staff" that never misses an opportunity to up-sell an order or cross-sell additional products.
Clients
Here is a sample of some of the smart business system we have designed and built.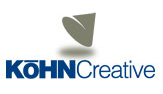 KoHN Creative a full-service marketing communications firm, which offers complete solutions through its marketing, creative, and in-house production capabilities.
KoHN Creative's services include Marketing Strategy, Visual Design, Corporate Branding, Copywriting and Editing, Identity, Campaign and Theme Development, Illustration, Product Design, Packaging and Marketing, and Crisis Management.
Its production capabilities include Traditional Printing, Digital Printing, Large Format Printing, Sign Design, Exhibit and Display Design, and Fabrication.
KoHN also provides electronic media offerings, such as Web Design and Programming, Web Hosting and Maintenance, Dynamic Content Development, Multimedia Development and Presentations, E-Mail Campaign Development, and Digital Video Production.
We provide KoHN with specialized technical services to support its electronic media offerings. Our services to KoHN include database and system design, web-database integration, programming (Microsoft ASP.NET, Microsoft SQL Server, Microsoft IIS, and PHP), and technical support for its servers and network.
We worked with KoHN to develop the following sites.
http://www.compassawards.com/
http://www.mysummerphotos.com/
http://awmpop.kohncreative.com/

Pug's Fuel Oil Service is a full service heating oil company, satisfying all your heating and cooling needs at very competitive prices. Pug's serves the commercial and residential customers of Baltimore County, Baltimore City, Harford County, Anne Arundel County, Howard County, and parts of Carroll County, Maryland.
Our system displays the current oil price, and allows customers to view their account and pay bills online.
http://www.pugsfueloil.com
The Noe Pond Club is a member-owned, non-profit family

swim club that provides a unique family club atmosphere with quality activities, incomparable instructional programs, and a beautiful facility that cultivates fun, learning, friendships, and lasting memories for people of all ages.
Our Web/Database system allows Noe Pond's staff people to record members' charges for products services at Internet connected PCs located throughout the club. The system records the charges in a database and uses the data to generate invoices for service charges, renewal notices, dues invoices, and a feed to the accounting system. Time2 also provides customer service and does the mailings.
https://www.noepondclub.org/

DUBMAX provides rapid, reliable, media duplicating in nearly any format including VHS, S-VHS Beta SP, DV 3/4, 1-inch, CD & DVD, Cassette, and DAT. It also provides CD and DVD authoring services including real-time video and Dolby Digital Audio encoding. Its services include packaging, fulfillment, shrink-wrap packaging, blind shipping, and ghost duplication. DUBMAX supplies "small quantities or large runs, in bulk or with custom packaging, and delivers in a zero tolerance for errors environment, every time".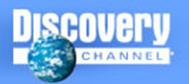 The Discovery Channel™ (launched in 1985) was America's first cable network dedicated to providing world-class documentary programming. Discovery is now a global leader in the creation and distribution of real-world media, retail products, and online educational services. Its properties now extend beyond television and include products sold at Discovery Channel Stores throughout the United States, as well as licensed products sold worldwide.
Our system provides a direct secure Internet link between The Discovery Channel and DUBMAX. DUBMAX maintains a master copy of each item in the Discovery library, including programs and commercials. Our system's database tracks the entire Discovery video library. To send programming to a television station, a Discovery Channel employee simply logs into the system, selects the required items from the database, enters the quantities, and the station's shipping address. The system records the order in its database; DUBMAX makes the copies (BETA, 3/4, or VHS) and ships them to the station.
http://www.dubmaxorders.com
http://www.dubmax.com